Making a Difference in our Community…One Project at a Time
The Workplace Volunteer Council can help you increase volunteerism in your business by:
Educating employees about the value of volunteerism

Identifying new opportunities for employee involvement

Promoting networking among member businesses

Serving as a connection between your business and the non-profits in our community
Your business benefits too. With your membership you will:
Network with other individuals who care about our community

Position your company as a business that cares

Learn how to foster volunteerism that leads to employee satisfaction
Signature Projects: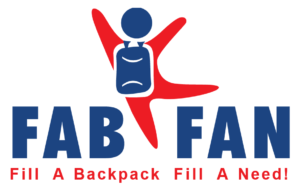 To be *eligible to take part in FABFAN, students must be entering 4K through 8th grade and qualify for free or reduced lunch at school.
For more information including the list of needed school supplies:
No time to shop? Monetary donations are appreciated! Please make checks payable to WVC – FABFAN and mail to Workplace Volunteer Council, P.O. Box 1384, Wausau, WI 54402-1384.
Weekdays in September and October (think CLEARANCE SALES) from 8 am to 5 pm:
Donations can be delivered to the front lobby of J & D Tube Benders, 8951 Enterprise Way, Schofield, WI 54476.
Please call 715-359-2073 if you need assistance unloading upon arrival.
In 2023, over 3,700 students started their school year off right with the needed supplies they received through FABFAN.  Since 1999, nearly 80,000 children have received help through Fill A Backpack Fill A Need (FABFAN) in Marathon County.
FABFAN is a year-round effort! To make it happen, we need ongoing support from our community members, businesses, and organizations. Some children need help only once and some need help every year. Please help us help them!
If you have questions about FABFAN, please email them to workplacevolunteercouncilmc@gmail.com
For too many individuals and families in our community, purchasing undergarments and socks is an expense they struggle to meet.  Bare Necessities was created to fill a gap in existing services.  Social workers, case managers, schools, and agencies that work with families in need can complete a request form. Learn how you can help by making a donation of needed items or hosting a supply drive.

While food pantries can help a family meet their food needs, toiletries are often not available. What most of us take for granted — toothpaste, deodorant, and soap — are challenging to purchase on a limited budget. The lack of these very basic items can have a negative impact on self-esteem and make it even more difficult to gain self-sufficiency.  Back to Basics collects toiletries (travel, sample, and full size) to distribute through organizations like the Salvation Army, Children's Wisconsin, The Women's Community, and other basic needs service providers. Learn how you can help by making a donation of needed items. For inquiries email workplacevolunteercouncilmc@gmail.com.

Workplace Volunteer Council of Marathon County is a partner project of United Way with the council directing its own projects. United Way of Marathon County serves as the non-profit fiscal sponsor to Workplace Volunteer Council.