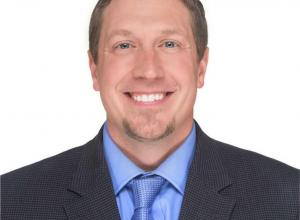 Inclusa
The 2022 Volunteer of the Year Award goes to an individual that has showcased volunteerism throughout the year. 
Congratulations Kris Kubnick.
As a father of two, Kris is dedicated to giving back.  He has been involved with United Way of Marathon County since 2019 and is committed to making the community a great place to live and work. Recently he volunteered with Emerging Leaders to tie blankets as part of the Be Amazing Group.  He has also dedicated time to Make a Difference Day raking yards for community members and helping as an Emerging Leader board member. 
Kris has lived in Marathon County most of his life and has worked for Inclusa as a social worker for more than 16 years. As member of United Way's Emerging Leaders, he focuses on creating opportunities for young professionals in the Marathon County. During the pandemic, he jumped right in to help with a modified smack hunger and pack snack kits for students. 
He also organized Adopt a Classroom boxes for students this past spring which impacted children in multiple schools. 
Kris has volunteered at the Warming Center and at area parks to improve the Born Learning Trails. 
Outside of work and volunteering he loves to spend time outdoors, camping with his family and hunting and fishing. 
Congratulations Kris Kubnick, your enthusiasm is contagious.