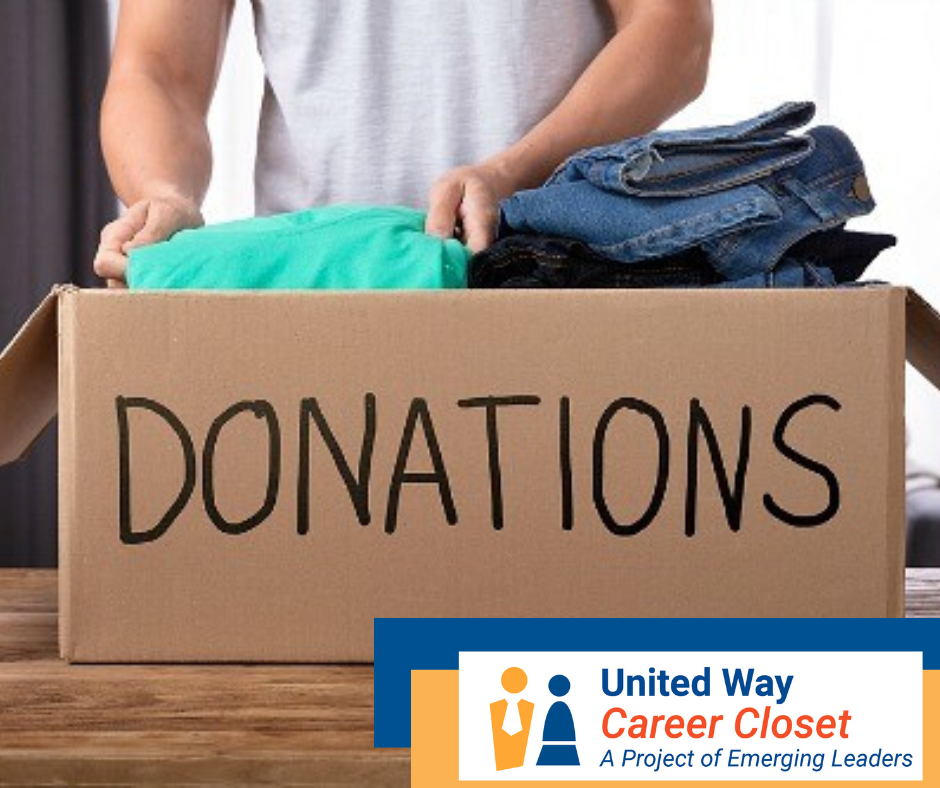 Do you have any clothing stored away in a box? Consider donating your adult clothes to United Way's Career Closet! The Career Closet is a project of United Way Emerging Leaders, that works with local adults in need of business professional clothing for interviews and employment.
The Career Closet is in urgent need of these items:
 Men's belts size 38-52                                  Men's jeans size 29-52
Men's casual or athletic shoes sizes 9-14 (Non-Skid especially)
Men's black or khaki washable slacks size 28-52
Men's XL T-shirts                                        Men's and Women's socks
Women's Scrubs tops and bottoms sizes XL-2XL
Women's Steel-Toed Boots sizes 9 and 10
Paper Bags
Donations are currently limited to 2 totes or bags per person. You may call ahead to determine if items are being accepted. Items can be dropped off at the United Way Office Monday through Friday or email syang@unitedwaymc.org for details.

The Career Closet is open on: 
Tuesdays from 3:00-5:00 pm
Wednesdays from 11:00 am-1:00 pm (September through May)
Thursdays Noon-2:00 pm 
Or by appointment by emailing syang@unitedwaymc.org 
The Career Closet is a project of Emerging Leaders that serves people in need of clothing for interviews or employment. Individuals may receive up to two outfits at no cost to help them obtain a job or to start their new work wardrobe. All items are donated and the project is entirely volunteer-run.
Steel-toed boots for new employment are available from the Career Closet through the Boots to Work program. Proof of employment with a need for steel-toed footwear and a completed voucher signed by a staff member of a referring agency is needed to receive one pair of new or gently used steel-toed boots.